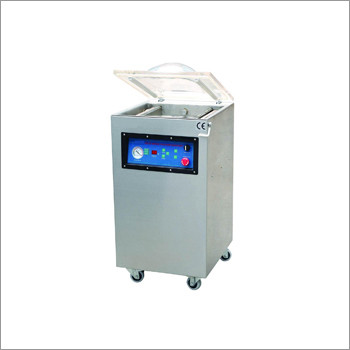 Single Chamber Vacuum Packaging Machine
Product Description
Single Chamber Vacuum Packaging Machine is manufactured using high grade raw materials as well as upgraded technology. This machine is a type of packaging that removes air from the package prior to sealing. This packaging machine is very easy to install as well as simple to use. Our offered Single Chamber Vacuum Packaging Machine is best known for better protection of foods for longer time, reduces waste, no chemical preservation, and is economical to use. This machine uses plastic film for removing air completely from the package before sealing it.
Length: 201/2 inches (520 mm)
Width: 201/2 inches (520 mm)
Height: 6 3/8 inches ( 162.4mm)
Vacuum Pump Specifications
Oil-filled rotary vacuum pump equipped with oil level indicator.
Maximum vacuum pressure 0.1MPa (29.6 in Hg)
Pump's exhaust Volume in 20 m3/h.
Direct driving with no belts or gears
Air-Cooling system
Oil volume 1/2 liter
Low vibration
Temperature operation range: Between 41 and 86 F (5 to 30 Celsius)
Machine Includes
One spare parts kit containing:
Two replacement heating element.
Two replacement silicon flexible bar.
Two pump seals
Replacement PTFE film.
Double sided adhesive tape replacement.
Oil filling bottle
One vacuum pump oil container (500 ml).
Operations manual.
250 Vacuum Bags Size 8 x 10
Other Specifications
Voltage 220VAC / 50-60Hz
Vacuum Pump Power 1.5KW (2 HP)
Seal Power: 750W Max
Warranty: This machine comes with a 12 month manufacturer 'return to base' warranty. In the event of a breakdown (which is extremely rare), simply send the machine to us and we will repair and send back to you.