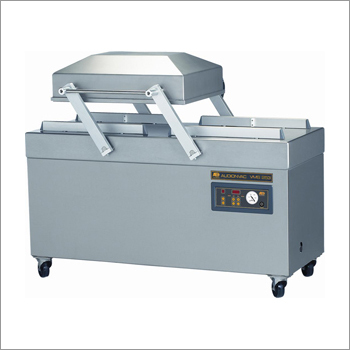 Double Chamber Vacuum Packaging Machine
Product Description
The offered Double Chamber Vacuum Packaging Machine is a faster packaging method due to its dual processing areas. It is fully automated in operation and can be easily controlled by a single operator witha help of an electric control panel. The structural frame and other components of this industrial unit is fabricated by using premium grade steel which results in higher sturdiness and robustness which results in less maintenance and longer service life. Buy from us Double Chamber Vacuum Packaging Machine at a reasonable price.
Extremely easy to operate.
Double Chamber System.
All-metal construction.
A self-standing machine with casters for ease of mobility.
Areas in contact with product made of Stainless Steel and PTFE.
Equipped with two wide-seal parallel sealing bars per chamber.
Dual vacuum pump system.
Parallel sealing bars configuration.
Distance between front and rear bars 16 1/2 inches (420 mm)
Impulse sealing system with two temperature settings..
Seal height on both bars 0.393 inches (10 mm).
Sealing bar width 23 inches (572 mm).
Internal main breaker for general electrical protection.
Heat element thickness (10 mm / 0.39 inches).
Easy-access control panel with E-Stop, controls, and main ON/OFF power selecto
Analog Control Panel
Seal temperature adjustment with three positions: Off, low and high.
Programmable vacuum duration (in seconds). From 0 Seconds- 60 Seconds.
Impulse seal time adjustment (in seconds). From 0 Seconds- 6 Seconds.
Emergency Stop Push Button
Main on/off power switch
Vacuum Pump Specifications
Oil-filled rotary vacuum pump.
Oil level indicator.
Maximum vacuum pressure 100 Pa
Pump's exhaust Volume in 20 m3/h.
Direct drive system - no belts or gears needed.
Air-Cooling.
Oil capacity: 17 fl oz. (1/2 liter).
Built-in oil moisture eliminator.
Low vibration.
Temperature operation range: Between 41 and 86 F (5 to 30 Celsius).
Machine Includes
One spare parts kit containing:
Two replacement heating element.
Two replacement silicon flexible bar.
Two pump seals
Replacement PTFE film.
Double sided adhesive tape replacement.
Oil filling bottle
One vacuum pump oil container (500 ml).
Operations manual.
250 Vacuum Bags Size 8 x 10
Other Specifications
Voltage 220 VAC / 50-60Hz
Vacuum Pump Power 2.5 KW (3.35 HP)
Seal Power: 1000W Max
Warranty: This machine comes with a 12 month manufacturer 'return to base' warranty. In the event of a breakdown (which is extremely rare), simply send the machine to us and we will repair and send back to you.